3 Semester Credits
(post-baccalaureate
PD credits for re-certification and
pay-lane increases)
accredited nationwide

start any time
up to 5 months to complete
independent study
all course materials included with course tuition
Course Description
This course examines the approaches to parenting in our current culture. The styles of parenting in today's culture are more abstract and permissive regarding limits and discipline. These behaviors are manifested by students whose misbehaviors are modeled and protected by parents and media. The family dynamics in society are very different then previous generations. Social attitudes regarding values and children along with overprotective parenting are issues in schools and classrooms. Ways of addressing these complex social and family dynamics are presented. Educators will research and develop writings and activities regarding these issues for school applications.
Teacher feedback about this course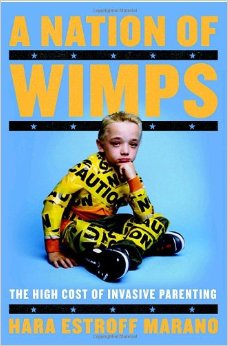 $425
3 Semester Graduate Credits
A Nation Of Wimps The High Cost of Invasive Parenting
- 3 Graduate Credits -
Course Objectives
Educators will review the historical progression of rules and unrealistic expectations that have been implemented in society to protect children from themselves.
Teachers will look at how schools have been blamed for all of society problems and how schools have taken on the responsibility of addressing all potential situations.
Educators will examine social change that have taken place and that shifts have placed the burden of responsibility from individuals or parents onto other institutions, teachers, social support staff and school systems.
Teaches will explore ways to discern problem situations and then place the burden of responsibility where it belongs and to address overly protective parents.
Educators will then research this topic as it relates to their society, personal lives as well as its impact on schools, classrooms, students and apply solutions to these issues.
Credit Hours
3 Semester Credits (post-baccalaureate professional development credit)
Course Instructor
Joseph C'de Baca MaEd.
Grade Type
University Transcript: Click Here For Details
A Nation Of Wimps The High Cost of Invasive Parenting
What Others Are Saying About This Course


I would like to personally thank the individual or group who decided to offer courses that were very ideally fitting for educators. I am more excited about these courses than any professional development I have taken in over ten years. Thank you for thinking outside the box and offering courses that sound so fascinating and meaningful."
– Tina B. , Maryland


Thank you very much, I appreciate your help in getting this to me for timely processing with my district."
– Christine G. , Indiana


Thank you for your willingness to e-mail me promptly regarding my questions. I really, really appreciate the format that TLC provided me. I will definitely continue to share my positive experience with fellow staff and hopefully you will see continued fruit from that. I will definitely use TLC again."
– Darin K. , Oregon


My superintendant forwarded an email about TLC to me"
– J. Churchill. Danvers, MA


I heard about this program through a friend. The courses were approved by the Virginia Board of Education"
– M. Barry. Fairfax, VA


Thanks for the feedback on Part B of the coursework. I used it as part of a World Geography course, and it was a success, so I will make it a regular part of curriculum!…"
– Carolyn P. Boulder, CO – Understanding Hispanic Students and Issues
---