2 Semester Credits
(post-baccalaureate
PD credits for re-certification and
pay-lane increases)
accredited nationwide

start any time
up to 5 months to complete
independent study
all course materials included with course tuition
This course explores the concept of resilience in young people and how educators can help students develop a variety of coping skills to persevere and succeed in school and life. It addresses how students in pain struggle and deal with adversity and how it is crucial for teaching effectiveness. The course examines trust building, student talents, instilling purpose and utilizing learning styles preferences to reach students. Educators will research the topic of resilience and write an application essay or lesson/unit plan for classroom applications and student counseling support.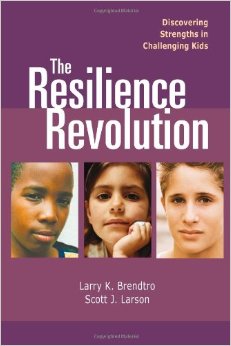 $325
2 Semester Graduate Credits
Resilience Revolution: Discovering Strengths in Challenging Kids
- 2 Graduate Credits -
Course Objectives
Educators will explore the topic of resiliency in students and how or why some students are able keep moving through adversity and persevere regardless of difficult personal circumstances.
Teachers will examine how to build trust in students who have difficulty with personal trust issues. They will develop ways to identify and use the student strengths, gifts and talents of each student.
Educators will be presented with ways of instilling purpose in young people as well self- empowerment regarding students with low self worth so they will behave in a positive manner.
Teachers will have the skills and knowledge to utilize the book information to improve their understanding and relationships with students to assist them with personal and educational success.
Credit Hours
2 Semester Credits (post-baccalaureate professional development credit)
Course Instructor
Joseph C'de Baca MaEd.
Grade Type
University Transcript: Click Here For Details
Resilience Revolution: Discovering Strengths in Challenging Kids
What Others Are Saying About This Course
"Thank you very much for sending the document, and responding so quickly. I really appreciate it. I have been enjoying the exciting course work, and feel confident I will be completing it soon. I will just share that I am an artist. Although I have adapted over the years to writing thoughts down in words, I think in mostly pictures. My writing style might be considered a bit informal. I hope it meets with your approval. Thank you again for your prompt reply, and the fascinating collection of courses you offer. This kind of work/ science should be applied


I would like to personally thank the individual or group who decided to offer courses that were very ideally fitting for educators. I am more excited about these courses than any professional development I have taken in over ten years. Thank you for thinking outside the box and offering courses that sound so fascinating and meaningful."
– Tina B. , Maryland


Thank you very much, I appreciate your help in getting this to me for timely processing with my district."
– Christine G. , Indiana


Thank you for your willingness to e-mail me promptly regarding my questions. I really, really appreciate the format that TLC provided me. I will definitely continue to share my positive experience with fellow staff and hopefully you will see continued fruit from that. I will definitely use TLC again."
– Darin K. , Oregon


My superintendant forwarded an email about TLC to me"
– J. Churchill. Danvers, MA


I heard about this program through a friend. The courses were approved by the Virginia Board of Education"
– M. Barry. Fairfax, VA


Thanks for the feedback on Part B of the coursework. I used it as part of a World Geography course, and it was a success, so I will make it a regular part of curriculum!…"
– Carolyn P. Boulder, CO – Understanding Hispanic Students and Issues
---